A. O. SHIRLEY RECREATION GROUND REPAIRS
STATUS: ONGOING
Ministry Partner: Ministry of Education, Culture, Youth Affairs, Fisheries and Agriculture
Project Number: 152
Project Start Date: October 2018
Project End Date:  TBC
Duration:  TBC
Contractors:  G-Unit Construction, MONDO Inc, Quality Construction Ltd. 3Js' Trucking, No Limit Construction, ContekPro Inc, Caribbean Environmental Restoration Ltd., MUSCO Inc, CW General Maintenance Ltd., AC Construction Ltd.
Budget: To be released once all planning aspects have been finalized
Funding Source:  BVI Government, BVI Olympic Committee, PanAm Sports, BVI Athletics Association
Extensive damage to A.O. Shirley Recreation Ground not only interrupted training for local athletes but also rendered the Virgin Islands unable to host national and international competitions. In addition to the destruction of the pavilion, lights and bathrooms and damage to the grandstand and the track, the perimeter wall was destroyed. This meant that there was no means of restricting entry during competitions and thus for sports associations to generate revenue from ticket sales.
Activity
A new track and trackside fence, a new perimeter wall made from recycled plastic panels, and new bathrooms have all been completed. Work on the grandstand has been completed. New lighting has been delivered and redesigned light foundations are aimed to prevent upliftment due to the high underground water table.
Result
Restoration of the Virgin Islands national sports ground is almost complete and the facility is once again fit for practice and training purposes for local athletes. Completion of repairs will provide over 30,000 Virgin Islands residents with a national athletics ground that meets international accreditation standards and can host regional and international events. The grounds will also meet the sports and events needs of children from neighboring schools.
Budget
To be released once all the planning for the project has been finalized.
The following funds were received for this project: $150,000 BVI Olympic Committee (with support from PanAm Sports), $30,000 initial instalment from BVI Athletics Association.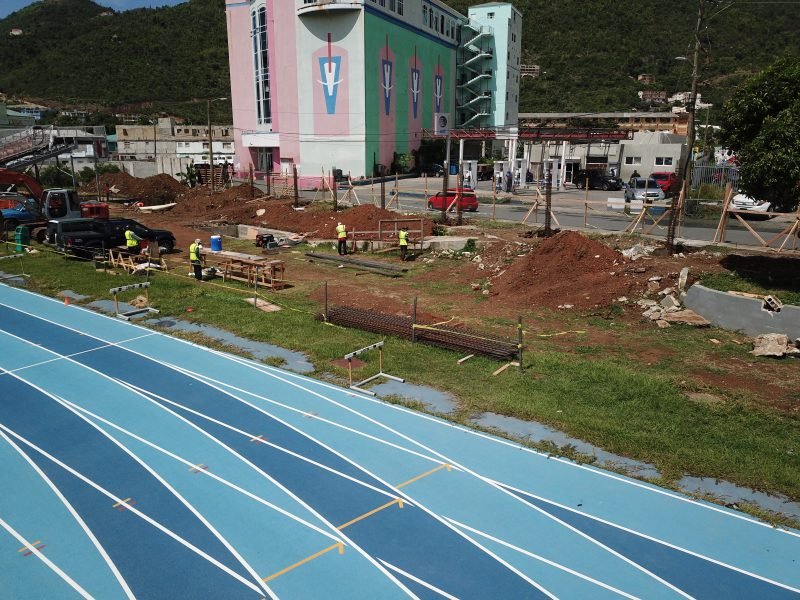 Please reach us at feedback@bvirecovery.vg or through our Contact Us page if you'd like to provide a donation to this project.